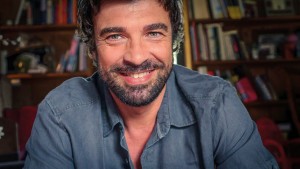 Jean-Pierre Michaël
, a former member of the Comédie-Française, is a well-rounded and accomplished actor.
---
He has had a rich and varied acting career. He has worked with major directors such as Jean-Pierre Vincent, Roger Planchon, Philippe Adrien and Bernard Murat. Jean-Pierre has acted in nearly 40 plays, with actors such as Françoise Seigner, Francis Huster, Philippe Torreton, Dominique Blanc and Michel Piccoli.
---
On TV, he acts in the police series R.I.S. Police scientifique, where he plays the main character. He also plays in TV series such as Les Corbeaux, Candice Renoir, and Joséphine ange gardien.
---
Jean-Pierre Michaël is excellent not only on stage, but in dubbing.
---
He has lent his voice to many American actors such as Brad Pitt, for whom he is the official French voice, Keanu Reeves (The Devil's Advocate, Matrix, Constantine, 47 Ronin, etc.), Jude Law (A.I. Artificial Intelligence, Hugo), Ethan Hawke (Gattaca, Training Day, Good Kill, etc.), Ben Affleck (Armageddon, Shakespeare in Love, Pearl Harbor, Gone Girl, etc.) to name a few.
---
Have no doubts, you know his voice. If you don't like watching movies, you must have heard him in many advertisements for L'Oréal, in particular, or on Virgin Radio or on the television channel D8, where he has been the official voice for several years now!
---