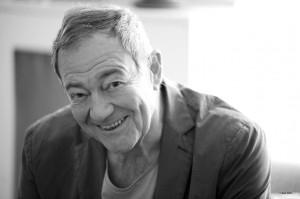 Everyone must have heard the voice of Benoît Allemane at least once in their life! His warm timbre makes him one of the most beautiful voices of the « sound web ».
---
But before being a voice, Benoît is an actor, and a brilliant one! Whether on stage, where he has notched up more than 40 plays, in the grandiose shows produced by Robert Hossein, for whom he has become a favourite actor, or on television (L'Allée du Roi, Julie Lescaut, Famille d'accueil, etc.), Benoît Allemane is unfailing in his generosity to the public and viewers.
---
He is the official French voice of Morgan Freeman, as well as other renowned actors like Michael Dorn, George Kennedy, Brian Cox and James Earl Jones.
---
From 1965 to 1980, he played in many radio serials and plays on France Inter and France Culture. From 1975 to 1981, he became the official storyteller of Radio-Monte Carlo, with more than two thousand broadcasts. He has produced records for children, recorded encyclopaedias and scientific commentaries. He has recorded programmes for the TV channels Arte, La Cinq, Odyssée, La Chaîne Histoire, National Geographic, Planète and Discovery. He has also taken part in the recording of many advertising spots for Le Monde, Alfa Roméo and Canal Satellite, to name a few. All in all, this is certainly a voice that you have heard at least once in your life!
---