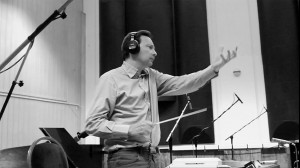 Although he is discreet, Thierry Malet is a virtuoso of musical writing.
---
After studying the piano at the Conservatoire de Paris, he studied with the French jazz pianist and composer Claude Bolling. That was when he discovered his true passion: writing music for films. However, Thierry Malet was a musician filled with curiosity, who only liked notes because he could understand them. This took him to study musical acoustics at the Conservatoire national des Arts et Métiers, before moving to the prestigious Sheffield University in England where he graduated with a PhD in music visualisation.
---
When he returned to France, he threw himself into the art of composing. An eclectic and fervent composer, he wrote original scores for television reports and documentaries, and then started composing music for French as well as American feature films. He received 15 awards for the soundtrack of the French-African film Eye of the Storm (L'Œil du Cyclone), as well as the SACEM award for the « best film soundtrack » and even an Oscar nomination for his original composition for the film Imago, which also received the Caméra d'Or award at the Cannes Film Festival.
---
In 2010, Thierry wrote the music for the film Le Pigeon, with François Morel, Thierry Lhermitte and Claire Keim. Recently he has written the music for the film Des Roses en Hiver, with Jean-Pierre Marielle.
---
Today, Thierry Malet is serenely celebrating 17 years of collaboration with the Prague Philharmonic Orchestra, a prestigious orchestra that he has just directed to offer us his original score for THE CONQUEST OF THE AIR.
---