Amaclio comes from "Ama" meaning "love" (from the Latin verb amare), and "Clio" (the historical muse): the name Amaclio invites us to a love affair with history. Amaclio is dedicated to promoting tangible and intangible French and European heritage by staging multitechnological shows (large-scale video projection, video mapping, performing arts… ) while embracing the widest possible audience.
---
Amaclio is a company that designs, produces and stages cultural events. It was founded by François Nicolas – cofounder of the Arthur Straight group – and Bruno Seillier, stage director and playwright of more than 40 performances.
---
These last three years, 3 shows were given in ONU Heritage sites: La Nuit aux Invalides, monumental video show in the Honor Courtyard of Les Invalides, 
Les Luminessences d'Avignon, a monumental, 360° video-projection in the Courtyard of the Popes' Palace in Avignon and Les Écuyers du Temps at Seaumur castle which associated performing arts, equestrian and monumental light show.
---
Since the creation of Amaclio in 2012, its shows gathered more than 400 000 spectators.
---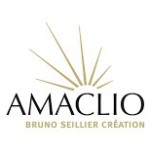 ---